This is such a quick and easy recipe, it takes longer to write this post than to cook it! Pea Shoot Pesto is a classic spring dish for me: packed with sweet and fresh pea flavor and full of important nutrients such as Vitamin C, Folate, Iron and Vitamin A. Plus some nice unsaturated fats if you use a high quality, extra virgin olive oil. So let's get started!
This is by default a vegan dish but I invite you anyway to go ahead and experiment with it. You love Parmesan cheese? Go for it! You have some fresh carrot greens left over from your carrots? Use it! You want to use walnuts instead of seeds? Try it! And let me know how it goes 🙂
Time you need to make pea shoots pesto
Preparation Time: 12 min
(or however long your pasta needs to cook)
Ingredients you need
Pasta of your choice
(I normally prefer whole grain but this is mild pesto so I went with classic white spaghetti)
Per Person:
2 hands full of pea shoots
1 small hand full of other greens like kale or broccoli leaves
1/2 a clove of garlic or some garlic green to taste
2 pinches of salt
1 small hand full of sunflower seeds or pine nuts (I prefer them toasted)
OPTIONAL: 2 Tablespoons of nutritional yeast for a cheesy flavor
What you need to do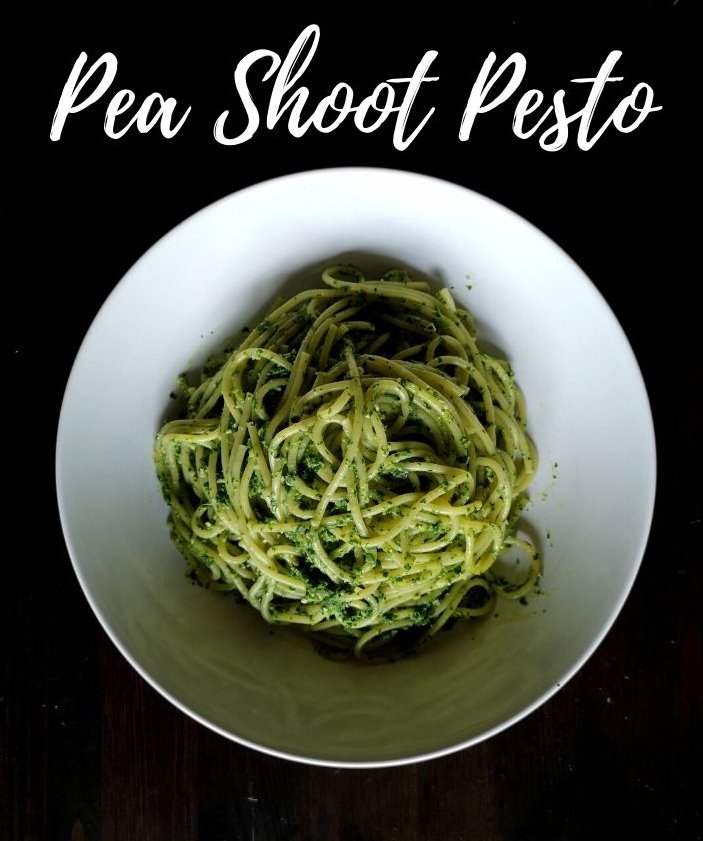 Bring your Pasta water to a boil, season it well with salt and add your pasta. Cook it until al dente (see packaging for instructions).
While the pasta cooks prepare your pesto. Wash your greens and pet them dry. Add the seeds, Salt and a tablespoon of hot water to a food processor and puls it, then mix it until a smooth paste is formed. Add your olive oil if you need more liquid to process everything.
Now add your greens, garlic and the nutritional yeast (if you use any) as well as the remaining olive oil. Mix until smooth.
Once the pasta is done, drain it (reserve a cup of the water in case you need any liquid to help with the consistency later). Add your pesto and in case everything is a bit to dry or sticky add some splashes of the reserved cooking water.
Serve and enjoy your bowl of spring!