Purple sprouting broccoli is the perfect vegetable for a continues harvest over several weeks. Unlike normal broccoli, it does not grow one single big head but instead it pops put loads of small, tender-stemmed, purple broccoli florets. Those can be harvested over a period of several weeks in spring and can provide delicious, nutritious veggies for your dinner table.
Why should you grow purple sprouting broccoli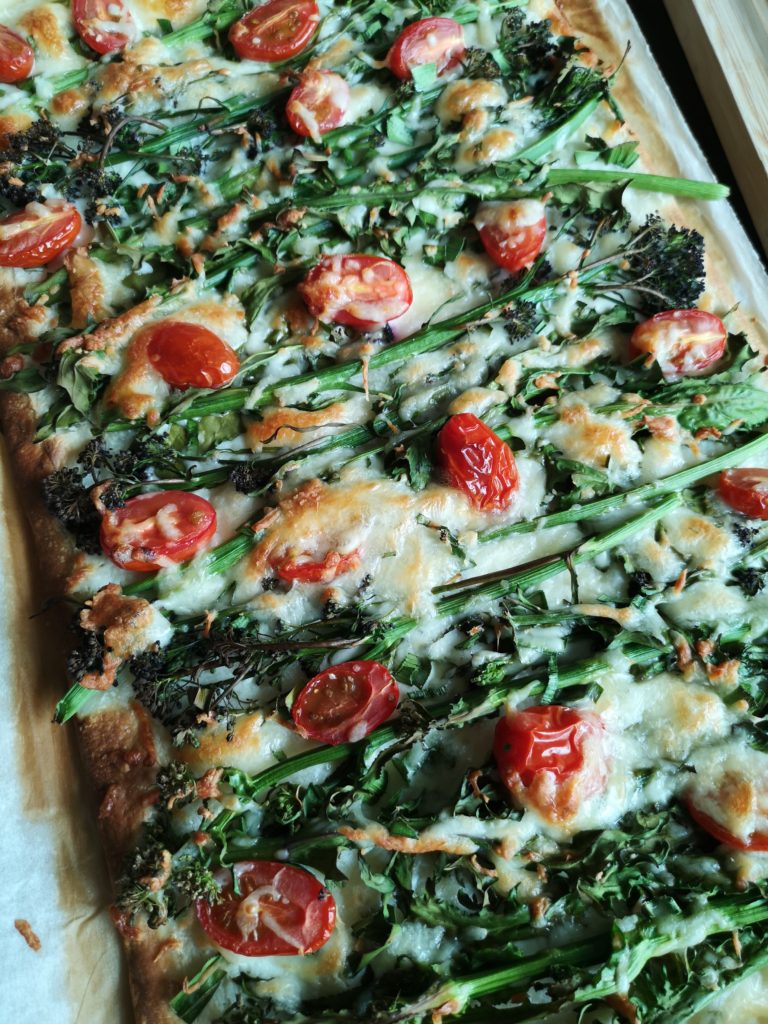 Growing your own vegetables means, you are getting more variety on your dinner table. That is why I grow purple sprouting broccoli, instead of a regular one. It is not only pretty and delicious but also comes with en extra amount of anti oxidants!
Sprouting broccoli is completely edible, leaves, stalks and of course the flowers – or florets, as they are called.
As described earlier, sprouting broccoli (no matter the color) is a form of broccoli that grows several florets per plant instead of just one big head. This makes it easier for you to harvest just what you need over several weeks. Just come down to the garden and pick a little bouquet of broccoli for your dinner. It goes well in a casserole or pasta dish, stir fry, curry, steamed over rice or as a fresh salad.
How and when to grow purple sprouting broccoli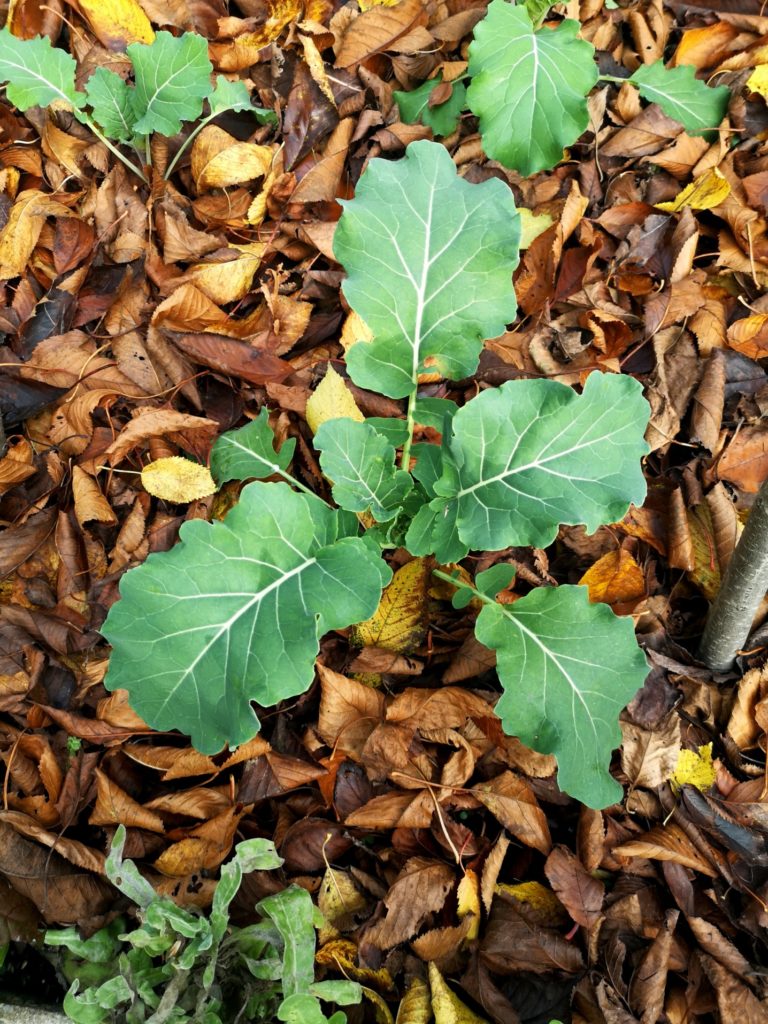 I personal grow purple sprouting broccoli from seed. I start in late summer sowing them in little pots. They will be ready to be harvested in the following spring. I transplant the grown up seedlings into the empty tomato beds once the tomato season is over in autumn.
The plants are spaced about 50 cm / 19 inches in all directions. You want to give them enough room to grow and therefor enough energy to provide a multitude of florets. You can see a small purple sprouting broccoli plant in th picture to the right. The even smaller broccoli plants in the upper part of the photo had been grown for the use of the leaves. They got eaten up before the first snow, thereby freeing up the space for the broccoli to grow further.
The soil should be nutrient rich, which I achieve by mixing it with compost. The plants then keep growing in the beds over autumn and go to rest in winter. They will be fine even in snowy weather if they are well mulched. If your temperatures drop significantly below freezing it is recommended to put a garden fleece over them or a mini foil tunnel.
Once snow is gone and the temperature goes up again the plant will pick up growth. In spring it will finally set flowers. And that's what you want: the part of the plant we eat is the flower! Sprouting broccoli will set one main flower first, followed by loads of more side flowers. Those can be harvested over several weeks.
You can start to grow purple sprouting broccoli in spring too and harvest it in autumn. But as it is a winter hardy crop I prefer to use this rare trait to it's full potential and to fill the "hungry gap" in early spring, when nothing else really grows.
When to harvest sprouting broccoli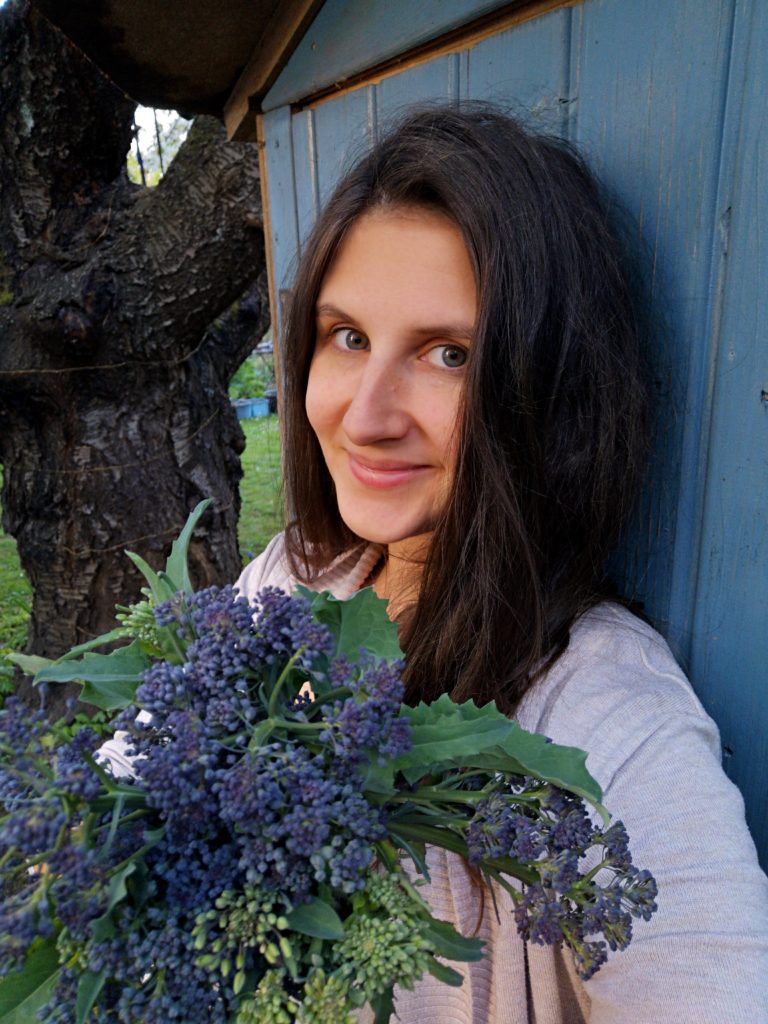 Basically once the broccoli florets look like small broccoli heads they are ready to harvest. Take care to cut some of the stem as well, as they are perfectly sweet and edible! Only for the very first floret leave at least 2cm / half an inch of stem on the plant. This is, where the plant will send out more florets.
The florets of purple sprouting broccoli should be harvested when they are still quite closed and tightly packed, as their bitterness and toughness grows with the flower maturing. You can still harvest even flowers, that already are opening, but they wont be as sweet and tender.
All throughout the growing period you can harvest the leaves to use as you would use collard greens. I even dedicated some plants to be eaten during winter, which meant that I had a steady supply of fresh greens. If you want to still harvest florets, only take a couple leaves here and their and make sure to keep the plant lush and growing.