Sometimes I feel like having pizza. A lot. But I kind of don't fancy that tanginess of tomato sauce. Or I'm too lazy too prepare a sauce, or the ingredients are not in store. Whatever it might be: it is not a reason to not have pizza! This pizza without tomato sauce is super rich, satisfying and full of flavor!
Time you need to make Pizza Bianca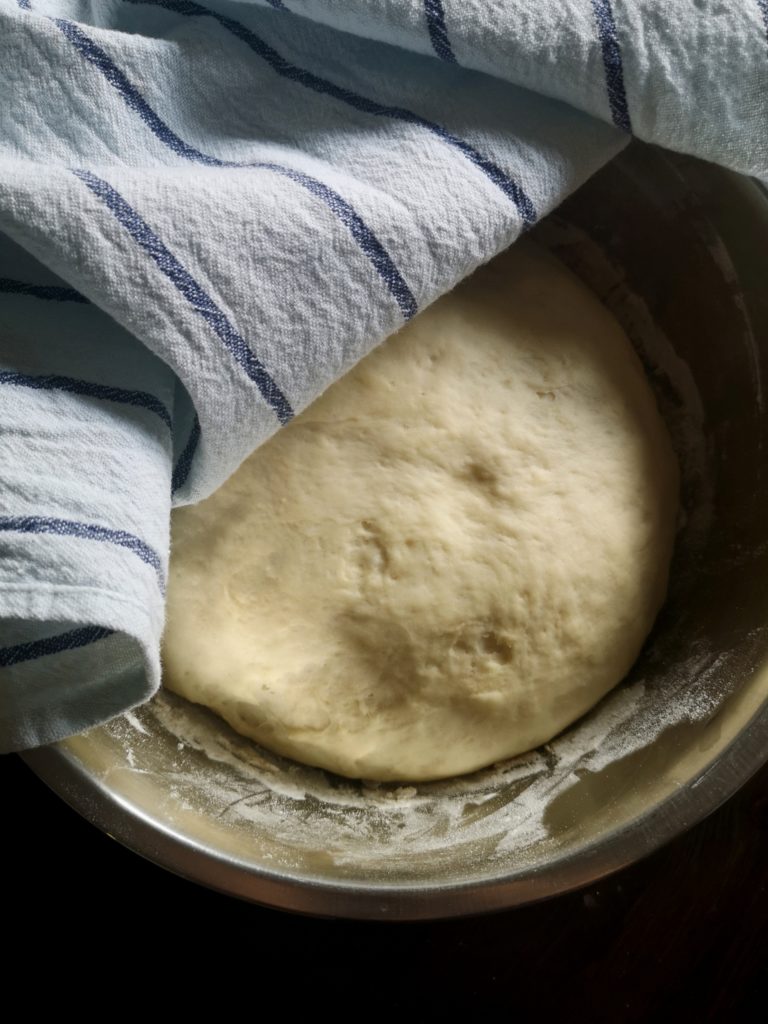 Preparation Dough: 10 min
Rising Dough: 40 to 60 min
Preparing Pizza: 10 min
Baking: 15 min
Ingredients you need
This recipe makes 1 big, thin crusted pizza. I normally make 2 of those to serve 3 adults. If we are really hungry, we prepare one per person. It's pizza after all!
For the dough:
250 g / 2 cups of plain white flour
100 ml / 3.38 fl oz (US) of warm water
5g / 1 Heaped teaspoon of active dry yeast
1 Tablespoon of good quality olive oil
1 Teaspoons of salt

For the topping:
2 Tablespoons of a high quality olive oil
3 Big pinches of salt
1 Generous tablespoon of dried Oregano
1 Tablespoon of dried Rosemary
1 Teaspoon of roasted garlic flakes
Cream Cheese

You can just throw on all your favorite toppings really! I tend to use the things with a milder taste, that could easily be overpowered by tomato sauce. Those normally combine well with intense tasting ingredients like olives or little shreds of smoked salmon or bacon, which will give you a little flavor kick every time you bite into one.
In this case I used:
A Hand full of tender stem broccoli
Half a small Zucchini (Courgette, Summer Squash) cut in fine slices
A small can of butter beans, drained
2 Tablespoons of capers
Shredded Mozzarella to top everything off
Pizza without tomato sauce is also perfectly topped with anchovies, capers and feta cheese. Combined with some cherry tomatoes and basil leaves this version packs a serious punch and will win over even big tomato sauce fans.
Preparing the dough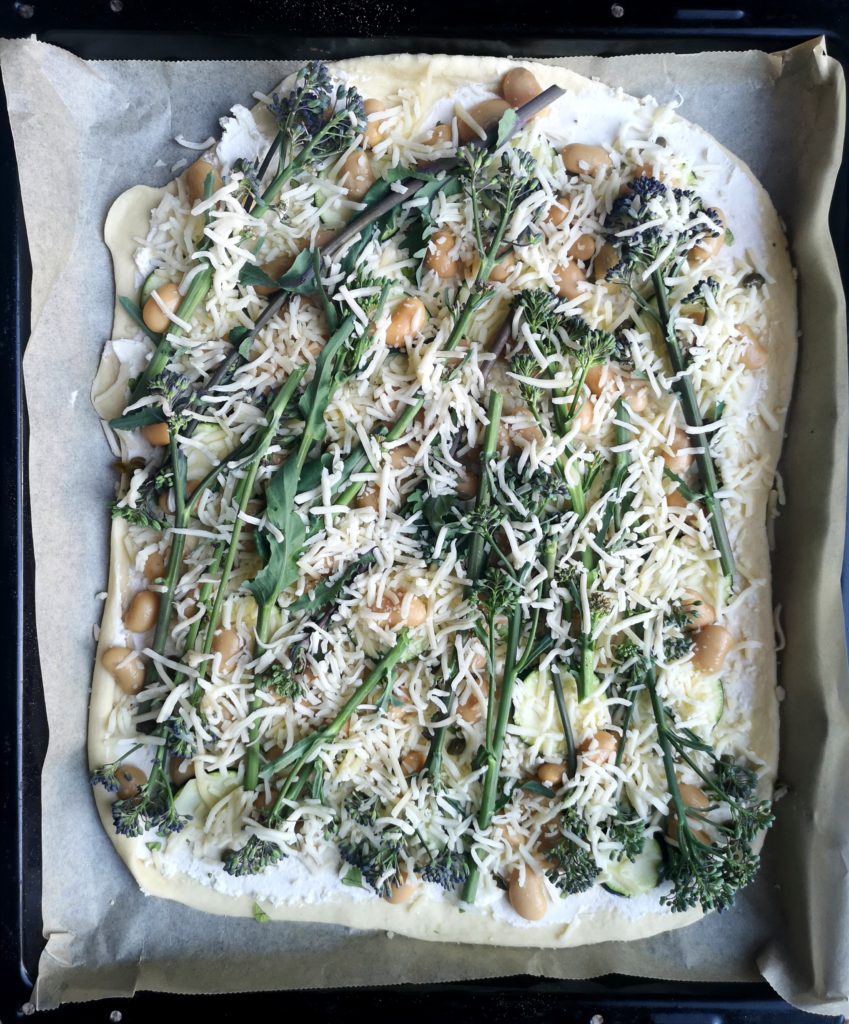 First prepare the dough for your pizza Bianca. I tend to use dried yeast as it is super easy to store. If you want to use fresh yeast make sure to use sufficient for 250 g / 2 cups of flour.
In a wide bowl mix the dry yeast with the warm water and add a pinch of sugar to is. Wait until the yeast starts foaming, then add the rest of the ingredients. Stir everything together, then start kneading with your hands. Keep kneading and stretching the dough for 10 minutes. This time is needed to create a smooth and dense texture.
Next cover the bowl and let the dough rise in a warm spot. Depending on the temperature you will need about 40 to 60 min until the dough has doubled in size.
Preheat your oven to 200 degrees Celsius / 400 degrees Fahrenheit.
Creating your perfect pizza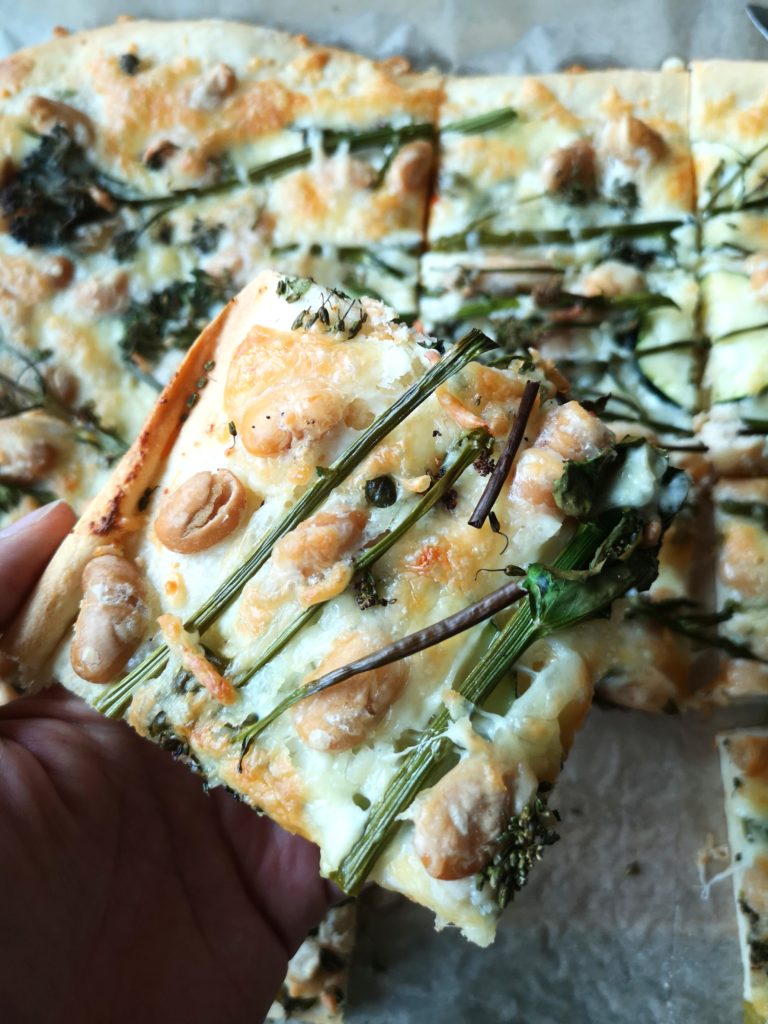 After the dough is done rising you should be able to quickly knead it and then to roll it out on a pizza dish / cookie sheet without any problems. It should be smooth, slightly springy and not sticky at all. If it is still a bit sticky, add flour to your work surface and rolling pin (I use a clean wine bottle).
With a fork poke some holes into the rolled out dough to help it become crispy. Then it is time to season it, as pizza without tomato sauce otherwise will taste bland. First spread on your olive oil, then a fine layer of cream cheese. From a hight, season with salt, garlic flakes, oregano and rosemary. Now come the toppings.
As I said, you can just throw on whatever you fancy! No need to be shy: you like it? Put it on! Make sure everything is cut in a way, so that it will be cooked within the 15 minutes, that the pizza will spend in the oven.

If you go for all mild ingredients (no capers, olives, anchovies or such) make sure to add an extra pinch of salt while seasoning the dough!
Now just bake your Pizza Bianca for about 15 minutes, then serve and enjoy this white beauty!